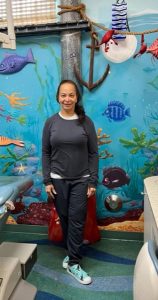 When parents tell me their kids look forward to coming to the office, I know I have done my job well. I want all children to feel safe and comfortable and for parents to participate in managing their child's dental healthcare. I make it a priority to listen to parents and understand their concerns by focusing on one-on-one conversations. Over the years, I have enjoyed watching children grow and relish the experiences I have.
Growing up back east in Baltimore, Maryland, I have always been a coastal person and fell in love with the opportunity to live in the Pacific Northwest after my first visit to the annual Pediatric Dental Conference.
I attended undergraduate school in Maryland, and after working a few years in laboratory research, graduated from Tufts Dental School of Dental Medicine in Boston. After working with children, I narrowed my love to this clinical experience and applied to a specialty training for pediatric dentistry at the Children's Hospital of Michigan (CHM). I am board certified and a fellow in pediatric dentistry. I focus on learning and keeping updated with the newest procedures pediatric dentistry has to offer.
Thank you for choosing our office, and I look forward to the opportunity to treat your children.
Meet Our Team
We are so grateful to work in such a wonderful community! As a team, we are always looking for ways in which we can help you and your child receive the most positive and rewarding experience during your visit here at Under the Sea Dentistry for Kids. Our team members speak Spanish, Russian and sign language! If you would like to learn more about our pediatric dental office in Vancouver, Washington, we encourage you to call 360-891-9283 today and set up a visit with our pediatric dentist, Dr. Butler.
Check back soon to meet our team!